Welcome to the Kenny Ross Ford Service Department
The highly qualified technicians at Kenny Ross Ford in Adamsburg are always ready to offer exceptional customer service in a timely manner. Regardless of whether it's a simple oil change or a more complicated transmission replacement, our technicians are dedicated to providing a great customer experience for all our new and pre-owned vehicle buyers.
Take Advantage Of Our Pickup, Delivery, & Contact Free Services
At Kenny Ross Ford serving Murrysville, your health and safety are important to us. That's why we are proud to offer free vehicle pickup and delivery services along with contact free service. If your Ford F-150, Expedition, or Escape needs an oil change-do not wait! We can drive to your home, pick up your vehicle, and return the vehicle back to you. Of course, our team is following social distancing guidelines along with the state guidelines as part of Essential Services requirements. We are sanitizing all vehicles that come our way.
If you are a White Oak, Greensburg, or Latrobe driver and would like to take advantage of our vehicle services, please call Kenny Ross Ford directly. Our team members are standing by to work out all the details with you.
Why Is Kenny Ross Ford Service So Exceptional?
The reason our service is considered so exceptional is because even after you've purchased your vehicle from Kenny Ross Ford, we're still here to serve and help you in any way we can.
We know you expect great customer service when purchasing a vehicle, but it's also true that vehicle owners would love to receive exceptional service when having their vehicle maintained.
That's what we offer at Kenny Ross Ford! We take great pride in all our vehicles, so as well is offering top-quality vehicles, Kenny Ross Ford also takes great pride in keeping these same vehicles on the road.
All vehicles Deserve Total Confidence Service!
It's important to realize that vehicles should last longer than just a few years, and our vehicles are designed to be passed down to the next generation. When you follow the routine service schedule for your vehicle we're very confident that you'll be able to pass your vehicle on.
The service department at Kenny Ross Ford is staffed with many factory-trained technicians, and we know that the Kenny Ross Ford Service Department is the best place for maintaining and servicing your vehicle.
Whether you need your vehicle's fluids checked, an oil change, or perhaps it's time for your 100,000-mile check-up, our speedy service and comfortable waiting rooms ensure the service experience passes in a very pleasant manner.
And let's face it, who better to take apart and re-assemble your vehicles than the very people who made them? That's why at Kenny Ross Ford we call this our Total Confidence Service.
The Benefits of Frequent Auto Service
The benefits of scheduling frequent auto service at Kenny Ross Ford, serving Irwin, are three-fold: increased safety, vehicle longevity, and fewer expensive repairs. By sticking to the Ford maintenance schedule for your car, SUV, or truck, you'll accrue more savings throughout years of ownership in Adamsburg.
Every type of auto service comes with unique benefits: oil changes improve engine functionality, tire rotations boost on-road stability, and the list goes on.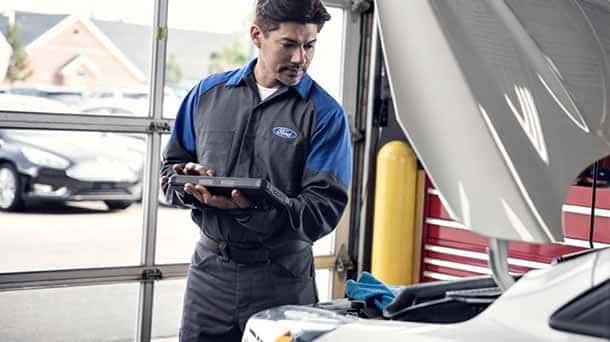 Where Can I Find Auto Service & Repair Near Me?
Local Ford owners can find auto service and repair at Kenny Ross Ford in Adamsburg, PA. Our Ford service facility is only 30 minutes outside the Latrobe area. If your Ford F-150 or Ford Escape could use a tire rotation, wheel alignment, oil change, or new battery, schedule an appointment online today. We also have service and parts coupons to reduce the cost of your new brake pads or full-synthetic oil change. Come to an Adamsburg Ford dealer that you can trust for certified Ford repairs. Schedule your car repairs at Kenny Ross Ford today.
What Are Some of Our Auto Services?
At the Kenny Ross Ford service center, serving White Oak, our team of factory-trained Ford technicians perform all forms of major and minor maintenance. You can schedule all repairs through our digital scheduling tool before bringing your Ford Explorer to our Greensburg-serving Ford dealership for its service appointment. To give you insight into all the auto repairs that we take care of near Murrysville, here's a full menu of our car services:
Oil and filter change
Tire Rotation
Wheel alignment
Tire replacement
HVAC service
Battery installation
Multi-point inspection
Transmission flush
Tire mount and balance
PA state inspection
Recall service
Wiper blade replacement
Battery testing
Electronic diagnostics
Air or cabin filter replacement